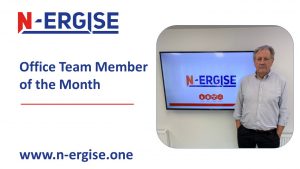 At N-ERGISE we understand the importance of acknowledging the hard work of our team, and we share our appreciation for each individuals work. Each month members of the team have the opportunity to anonymously share feedback about their colleagues, nominating the one person they believe has excelled and gone above and beyond their usual duties. As a small token of our gratitude team members are presented with a £50.00 voucher of their choice.
Join us in congratulating our employee of the month Tim Crane – Head of Projects
Tim has worked with N-ERGISE for 6 years and has been a key part in the day to day running of the projects department working on projects both onshore and offshore. Tim brings a wealth of experience to the Projects Team gained through previous roles in Engineering, Renewables, Nuclear, Marine and Oil and Gas. An asset to the business through his hard work and continuous efforts Tim has been an integral part in building N-ERGISE's reputation in the industry and ensuring existing and new clients are provided with a satisfactory service. Nothing is ever to much to ask of Tim and he is always willing to help others when needed.
When Tim was asked what he most enjoys about working at N-ERGISE – I have been with N-ERGISE since almost the beginning and have enjoyed every moment the work is always varied and full of challenges and to watch the company evolve into what we are now makes it all worthwhile.