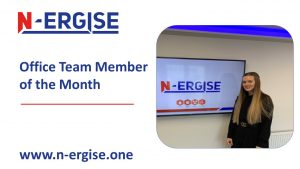 At N-ERGISE we understand the importance of acknowledging the hard work of our team, and we share our appreciation for each individuals work. Each month members of the team have the opportunity to anonymously share feedback about their colleagues, nominating the one person they believe has excelled and gone above and beyond their usual duties. As a small token of our gratitude team members are presented with a £50.00 voucher of their choice.
Join us in congratulating our employee of the month Enya Mackleworth – Resource Coordinator
Enya joined N-ERGISE in May 2020 with over 7 years' experience in a multitude of roles such as customer service, administration, healthcare, recruiting and occupational health. During her time with N-ERGISE Enya has worked on various onshore and offshore projects which have expanded her knowledge and skillset in both the renewable/ oil and gas sector. Enya is responsible for managing all mobilisations across a wide range of projects and all aspects of HR relating to employees. Enya enjoys working as part of a team and helping others.
When Enya was asked what he most enjoys about working at N-ERGISE – I enjoy working for N-ERGISE because the opportunities to develop within your role are endless. I have been given opportunities to promote my career development and increase my confidence which have enabled me to perform my role effectively. N-ERGISE truly care about their staff and promote a positive work culture.