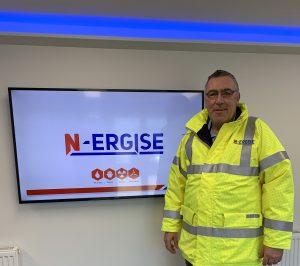 At N-ERGISE we understand the importance of acknowledging the hard work of our team, and we share our appreciation for each individual's work. Each month members of the team have the opportunity to anonymously share feedback about their colleagues, nominating the one person they believe has excelled and gone above and beyond their usual duties. As a small token of our gratitude team members are presented with a £50.00 voucher of their choice.
Join us in congratulating our employee of the month Stephen Barber – Materials Coordinator
Stephen has 32 years' experience in a multitude of roles within the oil and gas industry. Stephen started with N-ERGISE in October 2018 as a Materials Coordinator and has since gone on to learn new skills and knowledge that are pivotal to his role. Stephen plays a vital role in ensuring all tools, equipment and materials are issued with the appropriate documentation to provide a smooth running service to the client. Stephen is responsible for ensuring that stores is kept organised and tidy whilst ensuring all tool store activities are performed in an efficient and timely manner. A team player who communicates well with others and has an ability to work under pressure.
When Stephen was asked what he most enjoys about working at N-ERGISE – "I enjoy my role as Materials Co-ordinator at N-ERGISE because I am able to make a contribution and work in a fast paced role on different projects. I enjoy working as part of a team where everyone shares the same dedication and vision which makes each day at N-ERGISE enjoyable".