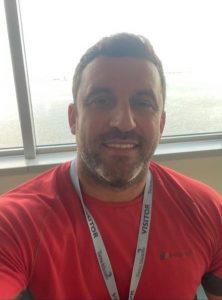 At N-ERGISE we understand the importance of acknowledging the hard work of our team, and we share our appreciation for each individuals work. Each month members of the team have the opportunity to anonymously share feedback about their colleagues, nominating the one person they believe has excelled and gone above and beyond their usual duties. As a small token of our gratitude team members are presented with a £50.00 voucher of their choice.
Join us in congratulating our crew member of the month John Gallagher – Scaffold Supervisor
John has 18 years' experience as a Scaffold Supervisor/ Inspector gained from working both onshore and offshore all over the world. John's first project with N-ERGISE was on the Galloper offshore wind farm in 2017. John plays an important part in supervising a team of Scaffolders ensuring complex scaffold is erected/ dismantled in a safe manner. He is responsible for recording adjustments on the scaffold inspection register and ensuring safety plans, method statements and risk assessments are adhered too.
When John was asked what he most enjoys about working at N-ERGISE – I would just like to firstly say thank you for the acknowledgement of the Team for this award it means a lot. N-ERGISE has been honestly one of the best companies I have worked for bearing in mind I have worked for many and across the world. I believe that we at N-ERGISE have one of the best Teams as a Company which makes it a pleasure to work for. I as the Scaffold Supervisor have a good Squad of Hand picked Scaffolders who have a great work ethic which makes my Job a lot easier.